Michelle's Portfolio
In the summer of 2008, I obtained my M.A. in Information and Learning Technologies. The puzzle in the header banner was chosen because I felt it was the perfect symbol for my journey through CU Denver's eLearning Design and Implementation Masters program. This program was the perfect fit for my love of technology and my love of teaching. Because of this program, I now have a more complete picture of how effective learning occurs and how technology can be designed and utilized to promote learning.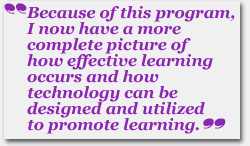 This portfolio site is a summary of my accomplishments achieved during my time in the program. Here is a brief summary of each section of my website:
This section is a reflection of my learning journey while I was enrolled in the eDI program. I discuss how this program has helped me to understand how learners make cognitive connections when using technology as a learning medium.
You can view my current resume. There is also an option to download a printable version of my resume.
This page contains the links to my major projects, websites and reports completed during my time in the program.
The ILT Competencies are milestones students are required to reach to graduate with their MA degree from the ILT program. The Competencies are based on standards established by professional organizations such as AECT, ISPI, IBSTPI, and ISTE. This section demonstrates how I achieved each of the competencies through the completion of projects and/or reports.
Current Works:
This section will contain links to current works and projects that reflect my growth and development as an Instructional Technologist.